
Home
>
Analysis of Operating Rate in Dyes Industry in 2017
Introduction: In Q3, 2017, the dyes industry saw two events: continuous increasing offers and the low operating rate during the environmental protection supervision. Today, the detailed analysis of the operation in dyes industry in the first three quarters will be shown here.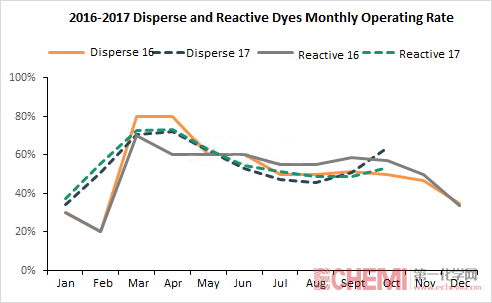 There are a large number of dyes producers. Variety and production & sales in each producer are very different. Today, we will analyze the operation status of disperse dyes and reactive dyes.
Compared with 2016, the operating rate in 2017 was more stable. Meanwhile, the distinctiveness between off-season and peak season was more obvious. At the beginning of 2017, the dyes market was stagnant because of the Spring Festival holiday. The overall operating rate was low. After the Spring Festival, dyes units restarted gradually. With the peak season of demand coming, the overall operating rate increased.
In mid 2017, the dyes market entered the off season. Most producers cut down operating rates to cut down the inventory pressure.
In Q3, 2017, the demand welcomed the peak season again. The operating rate should recovered rapidly. However, the environmental protection supervision in August and September influenced the production. The overall operating rate was low.
In Q4, 2017, most shut units started to restart. In H2 November, the demand peak season ended. The demand volume declined greatly. Dyes producers' sales pressure got high. Hence, producers will cut the operating rates.

Disclaimer: Echemi reserves the right of final explanation and revision for all the information.
Trade Alert
Delivering the latest product trends and industry news straight to your inbox.
(We'll never share your email address with a third-party.)