1. Overview of market conditions in this period
The demand for epidemic terminals in foreign countries is slow, the competition among factories is fierce, the price is low, and the space is not large;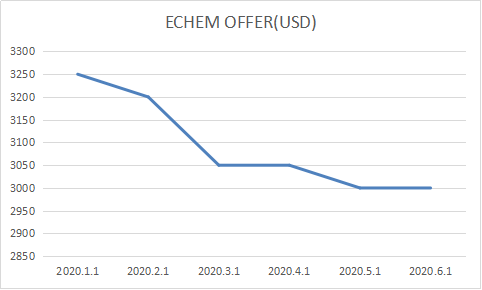 2. Analysis of domestic situation
| | | |
| --- | --- | --- |
| FACTORS OF INFLUENCE | HIGHLIGHTS | JUDGMENT |
| FACTORY OPERATING RATE, INVENTORY AND PRESSURE | Construction started normally. Zhejiang Huakang, Anyang Yuxin, Shandong Futian, etc. are currently only starting 40% -50%, but the inventory is normally high and Longli 's inventory pressure is still small | Good |
| MARKET DEMAND | Price volatility, weak market demand, strong wait-and-see mood | Bearish |
| MARKET MENTALITY | Fierce market competition, serious competition for customers, mainly deal | Bearish |
| FACTORY FALLING PRICE MENTALITY | The vacant market share is large, the factory is uneven, and each low price competes for the share | Bearish |
| UPSTREAM RAW MATERIALS | Starch sales quotations are generally raised, and downstream is cautiously chasing after rising | Good |
| INDUSTRY EVENTS | European production cut | Good |
| COMPREHENSIVE JUDGMENT | Manufacturers' inventory returned to normal. Although the upstream prices were firm, market demand was weak. The prices were running smoothly as various manufacturers traded to compete for share. | Bearish |
1. Crude oil continued to rebound, driving peripheral commodities higher
2. Sowing exceeded expectations and corn continued to fluctuate in low position
3. South Hong Kong's quotation is rising rapidly, and the trade profits of South and North Hong Kong are getting better
4. Starch continues to decline, and the startup rate of the industry declines
By April 30, 2020, the acquisition of autumn grain peak season in 2019 has ended, and the main production area has acquired 178.3 million tons of middle and late rice, corn and soybean, a year-on-year decrease of 11.99 million tons. Among them, 11 major production areas, including Heilongjiang and Shandong, have purchased 98.02 million tons of corn, a year-on-year decrease of 11.84 million tons.
In May, US crude continued to rebound, and commodity markets gained favorable support. Since May, the global epidemic has been relatively controllable and oil market demand has begun to recover, but the market remains cautious. In May, corn price in the United States continued to fluctuate, corn planting progress exceeded expectations, limiting the rebound space of corn in the United States. In May, the global outbreak of coronavirus pneumonia eased, the U.S. stock market and crude oil rose, the market was optimistic about the research and development of new coronavirus vaccine, enterprises gradually returned to work and production, and commodities rebounded. However, the planting progress of American corn exceeded expectations, limiting the rebound space of American corn. On the domestic market, in May, the market was affected by the auction policy of corn reserve, and the corn price fell first and then rose. On May 20, the temporary storage corn auction policy in the corn spot market was announced, and the optimism in the spot market returned, and the corn price stabilized and rebounded.
Current domestic manufacturers offer:
| | | | | |
| --- | --- | --- | --- | --- |
| FACTORY NAME | FACTORY PRICE (USD) | CHANGE (COMPARED TO LAST WEEK) | DEVICE CAPACITY | DEVICE OPERATION STATUS |
| SHANDONG FUTIAN | 3200-3350 | Flat | 30000Tons / year | 20Tons / day |
| ANYANG YUXIN | 3150-3250 | Flat | 20000Tons / year | 10Tons / day |
| SHANDONG LONGLI | 3100-3250 | Flat | 25000Tons / year | 6Tons / day |
3. Summary and Forecast
According to the fundamental situation of market supply and demand, it is believed that the logic of the bull market in the starch market is transformed from the supply side to the demand side. The negative impact of the demand-side epidemic on the economy and consumption cannot be ignored. Before proceeding, trade with caution. In summary, the overall domestic food grade xylitol market is still weaker than the market price, and downstream sales are difficult. The downstream customers purchase because of the epidemic and the market transactions are generally. It is expected that the food grade xylitol market will remain low in the short term.

Disclaimer: Echemi reserves the right of final explanation and revision for all the information.
Trade Alert
Delivering the latest product trends and industry news straight to your inbox.
(We'll never share your email address with a third-party.)