Overview of the current market situation
The potassium sorbate raw material plant crotonaldehyde started normally, the raw material supply is stable, the transportation capacity is normal, the price is stable, and there is no obvious price increase. The domestic potassium sorbate factories in Shandong Kunda, Nantong Acetic Acid, Jinneng Technology, Rugao Jiangbei, and Rugao Yangtze River started to actively prepare for European orders next year. Factory orders began to be tight and delivery was late. Ningbo Wanglong had a low operating rate in November and almost no inventory.
| | | |
| --- | --- | --- |
| Factory Name | Plant Capacity | Device Operation Status |
| WANGLONG | 30000Ton/Year | On Power≤80% |
| KUNDA | 30000 Ton/Year | On Power≤80% |
| JINNENG | 10000 Ton/Year | On Power≤70% |
| NANTONG CUSUAN | 27000 Ton/Year | On Power≤70% |
| JiangBei | 11000 Ton/Year | On Power≤70% |
| ChangJiang | 8000 Ton/Year | On Power≤70% |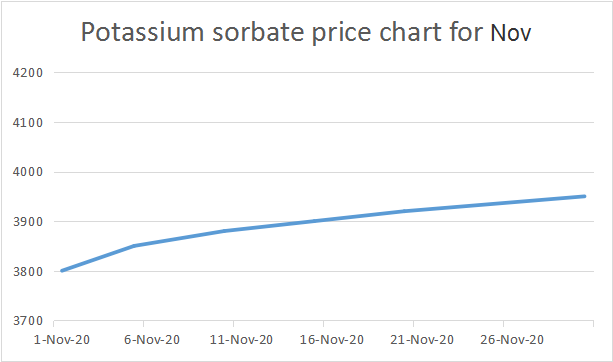 Market situation
Foreign terminals and distributors have basically started operations normally. In early November, customers of potassium sorbate were still in a wait-and-see mood, thinking that the price would be abnormal from previous years. After the middle of the year, the buying sentiment in the market was strong. Domestic factories Shandong Kunda and Ningbo Wanglong made every effort to place European orders, and there was almost no excess inventory matching. As Christmas approached, foreign customers generally began to stock up. Domestic traders and foreign traders gradually began to sign orders and stock up in the middle of the day, and prices rose linearly in November.
Market Forecast for the Next Issue
| | | |
| --- | --- | --- |
| Influence Factor | Key Points Overview | Judge |
| Factories Operating Rate, Inventory And Inventory Situation | The factory has started stable, and customers have more demand for stocking near Christmas and actively place orders. | Good |
| Market Demand | Stocking up before Christmas is coming, just need to replenish. | Good |
| Market Mentality | The order is more emotional. | Good |
| Factory Opinion | Almost no inventory, strong mentality to increase prices. | Good |
| Upstream Raw Materials | The upstream raw material crotonaldehyde contains alcohol, and there is no room for price reduction of raw materials. | Good |
| Industry Events | The state encourages exports, the tax rebate rate increases, and the exchange rate rises. | Good |
| Summary | Manufacturers have insufficient inventory and many orders, and prices may continue to rise. | Good |
ECHEMI Prediction
To sum up, in late November, near the end of the pre-Christmas stocking period, foreign customers just needed to replenish the stock. Market prices have risen significantly, and almost all factories are out of stock. Previously, wait-and-see customers have begun to place orders one after another. Shandong Kunda's delivery date even went to January, plus domestic RMB continued to appreciate, and various routes were severely liquidated, and ocean freight rates continued to rise. It is predicted that prices may still rise in December. Customers who just need replenishment are advised to place orders as soon as possible.

Disclaimer: Echemi reserves the right of final explanation and revision for all the information.
Trade Alert
Delivering the latest product trends and industry news straight to your inbox.
(We'll never share your email address with a third-party.)