
Home
>
Chemial News
>
>
Price Trend Page Is Coming, to Give You the Most Comprehensive Chinese Chemical
As one leading B2B platform in China, Echemi is not only prefessional in the B2B business but also focuses on providing information. After the online of Exhibition and News pages, now Echemi specially introducing the Price Trend page!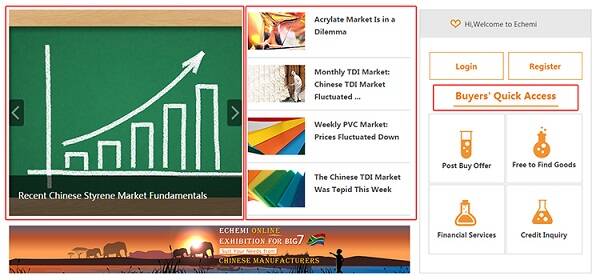 On the top of the page, there are three major parts: Banner, Recommended News and Buyers'Quick Access (from left to right). The Banner part offers the latest trends of China's chemicals market and deep analysis of industries. From this part, you can easily get the hot topics and promising development of China's chemical industry. Then, the Recommended News in the center, shows the news which is read by most people. This part provides the hot news to users quickly. Finally, the Buyers' Quick Access helps buyers reach the page they want to go, which will save a lot of time.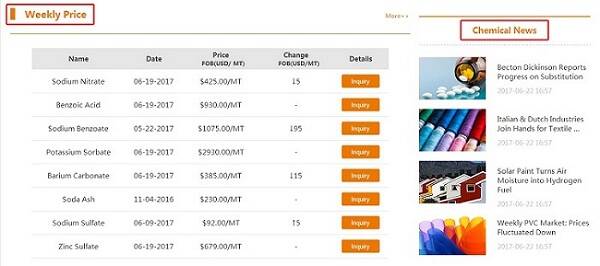 In the middle of the page, there are two parts: Weekly Price and Chemical News. Firstly, the weekly price is the essence of the page. It provides the latest prices and shows the changes. Moreover, buyers can easily inquiry from this part. Know the latest news to seize more opportunities! Secondly, the Chemical News shows the fresh news published on the News page. Users can go to the News page from here.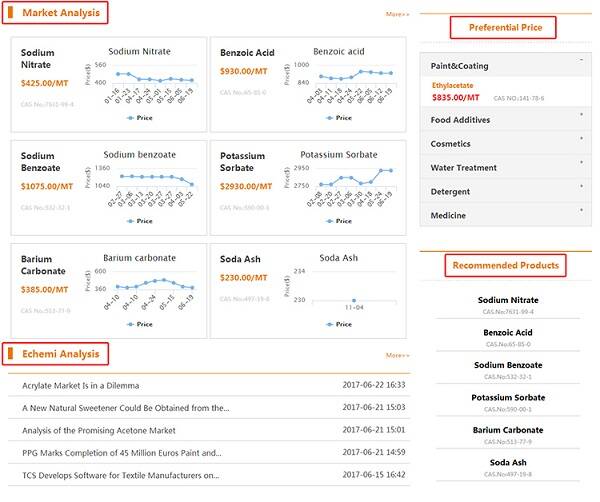 Finally, here come the most important parts: Market Analysis, Echemi Analysis and Preferential Price.The Market Analysis part offers the latest prices and gives the trend, which will show the historical trend of the products. And the Echemi Analysis gives the deep analysis of products' markets and industry analysis. From this part, users can know more about the Chinese chemical market and get more chances. The Preferential Price part shows the hot products from Echemi. Users can know which product is on hot sales or in promotion activity.
All the information on this page is updated daily. More information, Pls. come to the Price Trend page! Give you the most comprehensive info of Chinese chemical market!

Disclaimer: Echemi reserves the right of final explanation and revision for all the information.
Trade Alert
Delivering the latest product trends and industry news straight to your inbox.
(We'll never share your email address with a third-party.)