
Home
>
Chinese Aniline Market Entered the Downtrend
Introduction: The Chinese aniline market prices had remained stable for a while, and the bearish factors weighed on market prices. First, aniline producers in Shandong and North China reduced the ex-works prices first, and the decline was RMB 500/mt in total. Prices were in the range of RMB 11,700-11,900/mt in cash and RMB 12,000-12,200/mt by acceptance. In East China, prices moved down by RMB 300/mt. Prices were RMB 11,850/mt.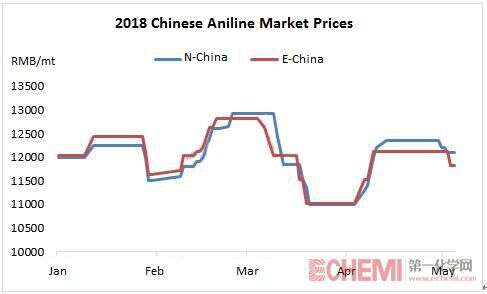 At first, the unit at Shanxi Tianji was undergoing maintenance, which supported the market. But the maintenance will end this week, and the supply will increase. Moreover, the unit at Shandong Huatai was expected to restart this week. Some cargoes will arrive at East China, and the supply was expected to reach a high level. Some low-priced goods were sold to Shandong, which weighed on the market prices in Shandong.
After the declines in Shandong, the prices in East China remained firm because of the export. Mainstream producers in East China had export orders to support the prices. The 100kt/a unit at Nanjing Chemical will restart, and the sales volume won't be high.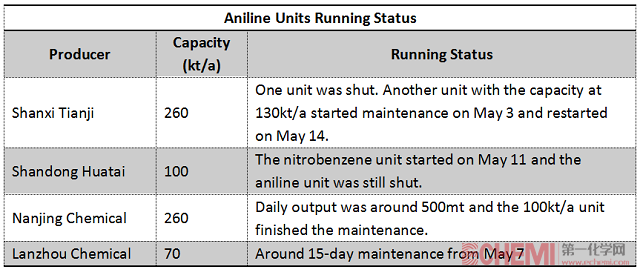 This week, the operating rates in the downstream industries were not high. Many units of rubber additives, dyes and pesticide were shut in East China. In Shandong and North China, the demand for aniline shrank on the coming SCO Summit. The MDI market prices also went down, which couldn't support the aniline market. On the whole, the supply was expected to increase while the demand was weak.
It is predicted that the aniline market will continue to be weak in the short term and prices may slide. Players should focus on the market changes.

Disclaimer: Echemi reserves the right of final explanation and revision for all the information.
Trade Alert
Delivering the latest product trends and industry news straight to your inbox.
(We'll never share your email address with a third-party.)