The current extremely chaotic shipping market has driven major international buyers crazy!
Recently, the top three major importers in the United States, Home Depot, announced that under the extreme circumstances of current port congestion, shortage of containers, and the coronavirus epidemic dragging down transportation progress, it will lease a freighter entirely owned by its own, with 100% dedicated round-trip routes. For Home Depot, to alleviate the current supply chain problems.
The ship will start operations next month.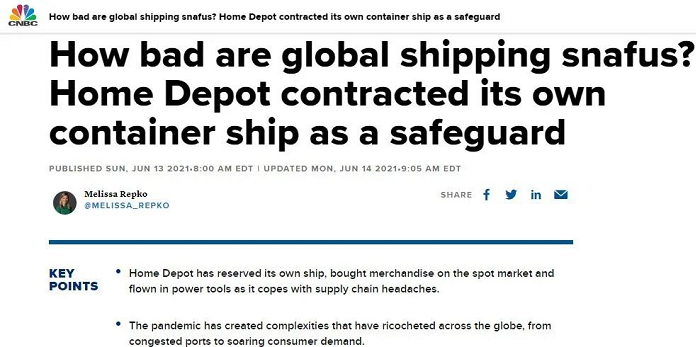 Its president and chief operating officer Ted Decker said that the company's sales in the first quarter surged by 31% year-on-year, and continued to maintain a significant growth momentum. Consumers' consumer demand is extremely inflated, while chartering It is an extraordinary move for the company to deal with the challenges of the supply chain.
Home Depot has transported power tools, faucets, electronic components, fasteners and other "smaller, higher-value products" by air, or purchased spot goods on the market, even if the price was four times higher.
In such chaos, scale is the advantage, and only the wealthy can be bold. According to the latest ranking of Business Magazine, Home Depot is the third largest importer in the United States after Wal-Mart and Target.
But at present, there is only one Home Depot in the world with such a big deal.
The Entertainer, a well-known toy chain in the UK, decided to stop importing stuffed animal toys from China because of the huge shipping costs that caused the retail price of toys to be too high. "In the 40 years of toy retail, I have never encountered such a challenging situation." Its founder Gary Grant said.
A UK-based non-vessel carrier said that "outrageous rates" have caused many orders from China to be cancelled, and explained: "This has had a significant impact on retailers who cannot raise prices."
Another British freight forwarder said that the current market is "chaotic." He said: "Our customers' imports are stagnating, and smaller importers will face bankruptcy. In addition, importers are said to be seeking to transfer production back to Europe."

"Difficult" brother and "difficult" brother shipping to Asia
However, Chinese exporters are not the only ones facing shipping problems. After the Indian epidemic "infected" Southeast Asia, exports from many countries have suffered heavy losses.
For example, Malaysia. In order to curb the development of the epidemic, Malaysia has been completely blocked from June 1 to 14. Although port freight is allowed to operate, furniture factories are prohibited from operating. This has caused more than 2,000 containers of export goods in the furniture industry to be stranded. More than 200 million ringgits. Li Guangsen, vice chairman of the Malaysian Furniture Federation, said that the total blockade may result in an export loss of RM400 million to RM500 million.
South Korea is also facing a large backlog of export goods, even though the South Korean government has introduced relevant policies to alleviate shipping problems (increasing routes, issuing subsidies, securing space, penalizing price increases! This country is aggressively recruiting to ease shipping problems!). In Busan Port, which accounts for more than 70% of the container throughput in South Korea, a large number of containers are stacked on top of each other, leaving only narrow passages to allow vehicles to pass through.
Affected by the "unsmooth shipping", Korean tire company Hankook Tire, which has the largest market share in South Korea, has suspended production for three days from June 10th. The reason is that a large number of tires are accumulated in the warehouse and there is no storage space, so the factory has to stop. Run and adjust production capacity.

The shipping season is coming soon
According to estimates by the American Retailers Association, the import volume of containers at US ports in a single month from May to September will maintain a level of more than 2 million TEU (20-foot containers), which will continue to rise from previous forecasts, mainly due to the gradual recovery of economic activities, but US retailers Inventory is still at a low point in the past 30 years, and strong demand for restocking will further boost demand for cargo.
Jonathan Gold, vice president of supply chain and customs policy for the American Retailers Association, believes that retailers are entering the peak season for shipping holiday merchandise, which begins in August.
There are rumors in the market that some shipping companies are planning a new round of price increases in July.
According to the latest news, Yangming Shipping sent a notice to customers on June 15 that the Far East to the United States line will increase the price on July 15. Far East-US West, Far East-US East and Canada will be charged an additional US$900 per 20-foot container. , An additional $1,000 will be charged for each 40-foot container.
This is Yang Ming's third price increase in half a month. It announced on May 26 that it would increase the GRI since July 1, with an additional charge of US$1,000 per 40-foot container and US$900 per 20-foot container; on May 28, it will notify customers again, and it will be expanded from July 1st. There will be a comprehensive rate increase surcharge (GRI), an additional US$2,000 per 40-foot container and an additional US$1800 per 20-foot container; June 15 is the latest increase.
MSC will increase prices on all routes exported to the United States and Canada from July 1st. The increase is US$2,400 per 20-foot container, US$3,000 per 40-foot container, and US$3798 per 45-foot container, of which an increase of 3798 per 45-foot container. The U.S. dollar also set a record for a single increase in shipping history!
For the specific price increase adjustment table, please follow the WeChat public account "Focus Vision", enter the main page, and reply to the keyword "0701" in the dialog box to obtain it, both in Chinese and English!
The good news for shipping in the near future is that, according to an announcement issued by Yantian International on June 15th, its overall operating capacity has returned to about 70% of the normal period and will be fully restored by the end of June.
To a certain extent, this gave South China export companies a sigh of relief.

Disclaimer: Echemi reserves the right of final explanation and revision for all the information.
Trade Alert
Delivering the latest product trends and industry news straight to your inbox.
(We'll never share your email address with a third-party.)