
Home
>
Chemial News
>
>
Echemi Foreign Trade Forum & 2nd Top 10 Suppliers Awards Completed Successfully
On January 26, 2018, the Echemi Foreign Trade Forum and 2nd Top 10 Suppliers Awards had its brand opening in Qingdao. Echemi Foreign Trade Forum is geared to the needs of Chinese suppliers by sharing the foreign trade marketing experience in chemicals, creating the hot products, foreign trade services, on-site simulation, etc. The 2nd Top 10 Suppliers Selecting Activity was hosted by Echemi and co-organized by PDCMA. Qingdao SME Service Center and Qingdao Shinan District Bureau of Commerce supported the activity. Finally, 10 suppliers got the Top 10 Awards.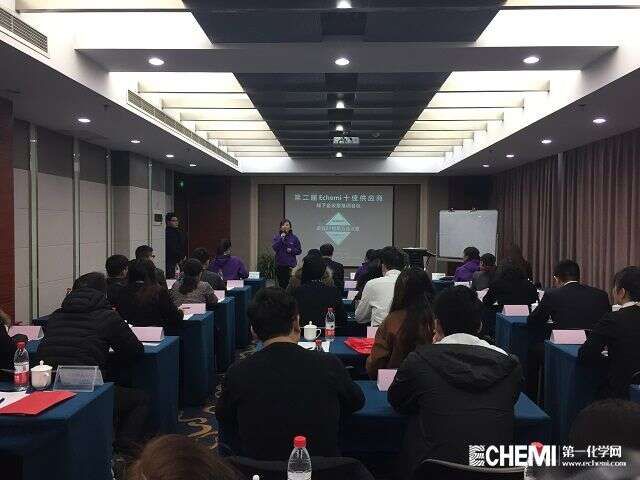 Echemi Foreign Trade Forum & 2nd Echemi Top 10 Suppliers Awards Opened
Echemi created a professional forum for the chemical industry, and chose the advanced enterprises with high brand influence and impetus. The 2nd Echemi Top 10 Suppliers Selecting Activity promotes the foreign trade development in chemical industry and clearly put forward the globalization, informatization and industrialization trends. Chinese suppliers and Echemi seize the opportunity in the B2B revolution. After the preliminary audit, online voting and expert evaluation, finally came out the top 10 suppliers.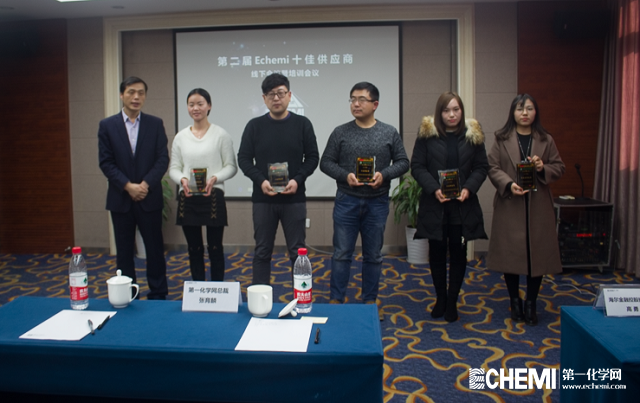 Top 10 Suppliers with Kevin Yu (Co-Founder of Echemi, left 1)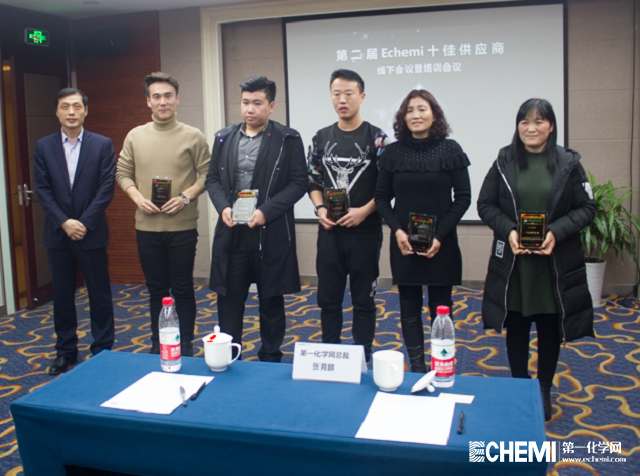 Top 10 Suppliers with Kevin Yu
2nd Top 10 Suppliers List (in random order)
Henan ZT League Chemical
Dongying HaiRuiBao New Materials
Sichuan Shenhong Chemical Industry
Dongming Changshengyuan Technology
Shandong Tongtaiweirun Food Science Tech
Dongguan CHNV Technology
Taizhou Ruibai Chemical
Jiangsu Kolod Food Ingredients
Puyang Yintai New Building Materials
Shandong Qinye Chemical
Echemi Quality Partners (in random order)
Qingdao Keyuan Marine Biochemistry
Tianjin Xinze Fine Chemical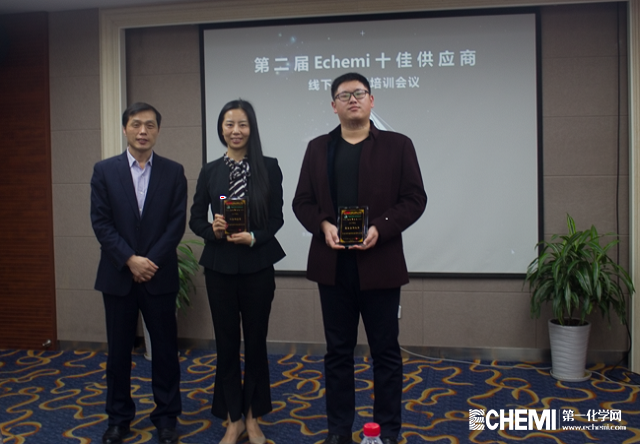 Quality Partners with Kevin Yu
The 1st Top 10 Suppliers Selecting Activity had become the wind vane in the Chinese chemical market. Global suppliers and buyers approved Echemi's activity. Award winners also got more business opportunities. The 2nd Top 10 Suppliers Selecting Activity adopted the online, print media and activity. Moreover, Pakistani partners participated in the selection.
Echemi also opened the Foreign Trade Forum, discussing the development trend in the foreign trade market.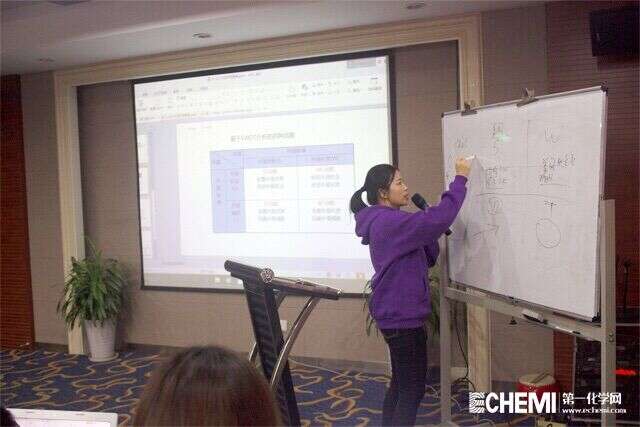 Marketing in Chemical Foreign Trade - Bree Wang (VP of Echemi)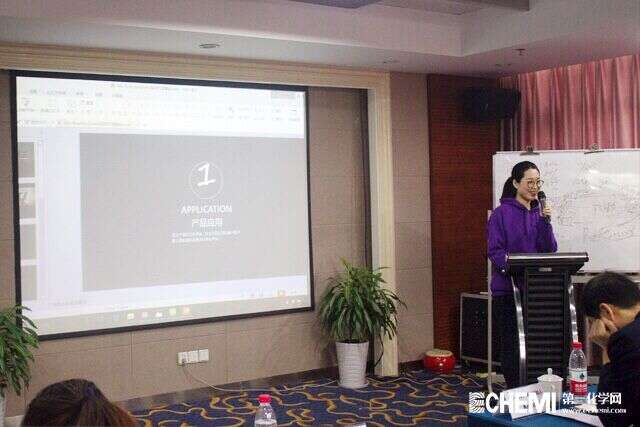 Echemi Hot Products Introduction - Yolanda An (Senior Sales Executive)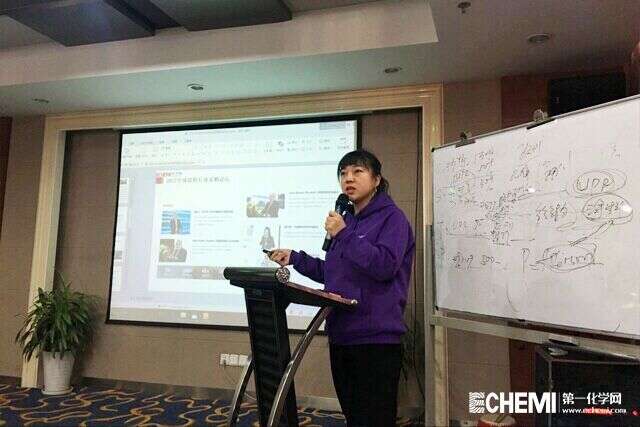 2018 Echemi Quality Suppliers - Helen Zhang ( Director of Operations )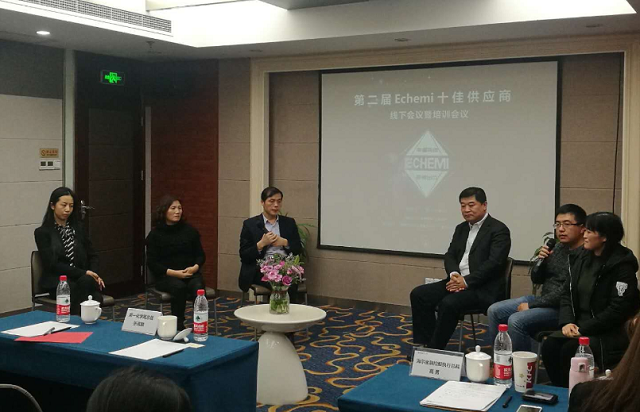 Foreign Trade Operation Discuss
Kevin Yu (co-founder of Echemi), Chen Xin(Sales Director of Tianjin Xinze), Zhang Xuemei (Sales Director of Henan ZT League), Li Chunhua (Director of foreign trade of Dongying HaiRuiBao), Yan Yusheng (Sales Director of Jiangsu Kolod) and Gao Yong (Executive Marketing Director of Haier Cash) reviewed the 2017 together and will create a better 2018.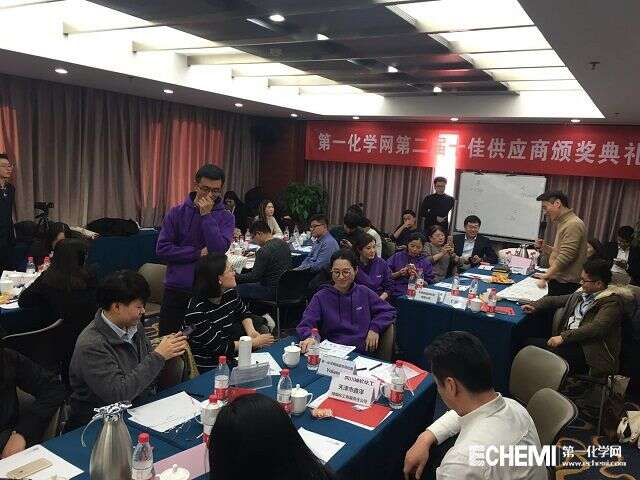 On-Site Simulation
Echemi Foreign Trade Forum brought out on-site exhibition simulation. Four experienced representatives carried out the on-site simulation on European, Russian, Latin American and Pakistani markets, sharing the experience to get more customers. Echemi Top 10 Suppliers Selecting Activity has great influence in the chemical market. Echemi holds strict concept and promotes the healthy development and continuous industrial consolidation, building the bridge between Chinese suppliers and global users.

Disclaimer: Echemi reserves the right of final explanation and revision for all the information.
Trade Alert
Delivering the latest product trends and industry news straight to your inbox.
(We'll never share your email address with a third-party.)