On December 11, Nature Reviews Drug Discovery published its 2021 global best-selling drug TOP10 forecast (as shown below). The cumulative sales revenue of these 10 drugs in 2021 will reach 109.75 billion U.S. dollars.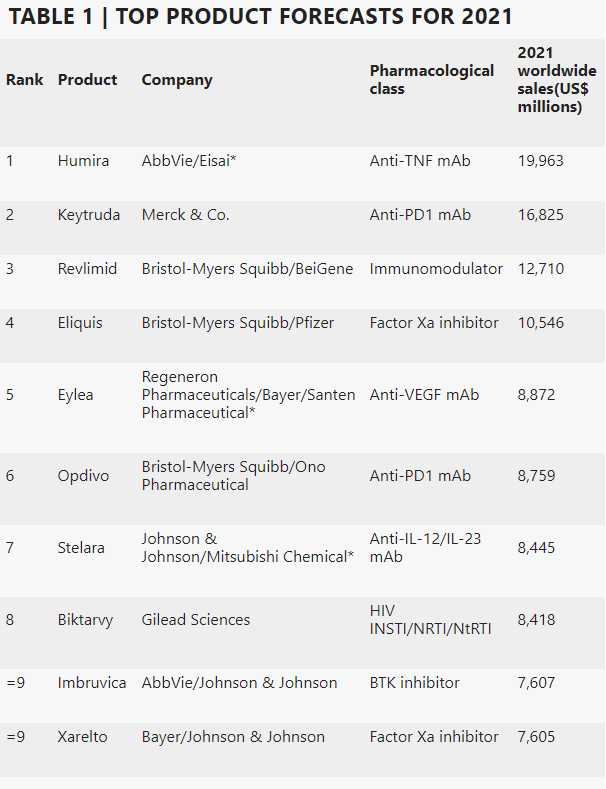 Source: Nature Reviews Drug Discovery (Note: Humira's sales revenue in the first three quarters of this year was US$14.68 billion)
The day when Humira (adalimumab) no longer dominates the list of best-selling drugs is coming, but not next year. Humira's expected sales in 2021 will be close to US$20 billion. From its launch in 2003 to the end of June 2020, Humira has achieved cumulative sales of US$165.8 billion. This year, it took over the crown of the industry's most successful drug from Lipitor (atorvastatin). Lipitor is a cholesterol-lowering drug with a total sales revenue of 160 billion U.S. dollars in 23 years of its launch.
Due to AbbVie's dual strategy of increasing prices and preventing the launch of any US-approved biosimilar drugs, Humira continues to achieve impressive sales results in autoimmune diseases such as rheumatoid arthritis, which offsets the use of biosimilars in Europe. Sales decline caused by the emergence of pharmaceuticals. However, Humira is entering its twilight years, and the postponed listing of AbbVie and biosimilar manufacturers will end in 2023, when competition will finally begin to erode the Humira market in the United States.
Although Humira still accounts for nearly 60% of AbbVie's sales, the small molecule BTK inhibitor Imbruvica (Ibruvica) continues to generate amazing revenues, which will make it the 9th place in sales in 2021. However, if the second-generation BTK inhibitors (such as Merck's MK-1026) can successfully resolve the C481S resistance mutation in BTK, the sales of Imbruvica may slow down. No matter how successful Imbruvica, Rinvoq (upatinib), and Skyrizi (Rezalizumab) can be, they are unlikely to achieve brilliant results similar to Humira.
As Humira steps to the center of the stage, Keytruda (Pembrolizumab) will shine in the next few years. Keytruda, a checkpoint inhibitor for multiple cancers, will surpass Humira's sales in 2024, and Keytruda's sales are expected to reach $16.8 billion in 2021. Due to the dominant position of anti-PD-1 monoclonal antibody in first-line non-small cell lung cancer and its continued expansion to other tumor types, its sales are expected to grow in the next few years. With the approval of new indications, sales in 2026 The amount may reach 26.3 billion US dollars, making its sales more than double that of any other drug that year. At the same time, because Opdivo (nivolumab) was unable to achieve such a success, it also made Keytruda at the forefront of anti-PD-1 / PD-L1 monoclonal antibodies.
There are 4 anticancer drugs in the TOP10 list, and only 2 of them are checkpoint inhibitors. This provides some reasons for the pharmaceutical industry to continue to pay attention to oncology. Revlimid (lenalidomide) often has annual sales of more than 10 billion US dollars, maintaining its reputation as a cash cow and maintaining its third position. But this immunomodulator is based on borrowed time, and generic drugs are expected to be on the market in 2022. But by then, its sales are expected to exceed 3.5 billion U.S. dollars, still a source of high revenue for BMS.
As predicted last year, in the field of non-tumor therapy, Gilead's HIV combination therapy Biktarvy (Biktarvir + Emtricitabine + Tenofovir) relies on its outstanding marketability and has so far compared to GlaxoSmithKline The competitive potential of Dovato (dotegravir + lamivudine) has kept it in the top ten.
The competition between the anticoagulant apixaban and rivaroxaban once again appeared in the top ten list, and apixaban is still the winner. It is expected that next year's BMS/Pfizer product sales will be nearly US$3 billion higher than Bayer's and Johnson & Johnson's drugs, and the recent patent wins will also prevent generic drugs from entering the market before 2026, consolidating apixaban as a BMS product The second largest growth driver in the pipeline after Opdivo.
Although Eliquis may have avoided the patent bullet, as biosimilars enter the market, sales of Eylea (aflibercept) and Stelara (usnumab) are expected to decline from 2023 and 2024, respectively. Although Johnson & Johnson tried to protect Stelara's sales by expanding indications for Crohn's disease and ulcerative colitis, Eylea had no such option. However, the concern that Novartis' wet age-related macular degeneration competitive product Beovu (brolucizumab) will steal a large piece of cake from Eylea's sales by 2023 does not seem to have been realized.
A significant achievement made by the industry to resolve the COVID-19 pandemic in 2020 is a series of effective vaccines. However, these products are not expected to enter the top ten in 2021. Among the vaccines that are leading the way in commercialization, Pfizer/BioNTech's BNT162b2 and Moderna's mRNA-1273 are expected to have sales of US$2.5 billion and US$2 billion in 2021, respectively.

Disclaimer: Echemi reserves the right of final explanation and revision for all the information.
Trade Alert
Delivering the latest product trends and industry news straight to your inbox.
(We'll never share your email address with a third-party.)