The 15 Most Valuable Brands in the 2021 China Pharmaceutical Brand Value List
Chinese pharmaceutical brands have played an important role in helping the country fight the covid in the past year, and these brands have been pushed to the center of social topics like never before. Brand Finance selected China's 15 most valuable and strongest pharmaceutical brands for the first time. This list shows the true value and strength of the brands in the industry, and the brands on the list have achieved very dazzling performance.Sinopharm Group, Guangzhou Pharmaceutical Group, and Shanghai Pharmaceuticals ranked in the top three, with brand values of US$3.181 billion, US$1.456 billion and US$1.375 billion respectively.
The brand value of the No. 1 Sinopharm Group increased by 58% from last year to US$3.2 billion. Sinopharm Group has made significant progress in the global competition for the development and production of COVID-19 vaccines, and has successfully developed a highly efficient vaccine that has been internationally certified.Currently, the vaccine has exceeded hundreds of millions of doses in global supply and vaccination.
The second-placed Guangzhou Pharmaceutical Group, its brand value increased by 74% to US$1.5 billion.As one of the top traditional Chinese medicine manufacturers, Guangyao Group actively contributes its expertise in traditional Chinese medicine, Banlangen,and vigorously assists in the fight against the pandemic. As a result, the brand value has been greatly improved.
Ranked third by Shanghai Pharmaceuticals Group, its brand value increased by 50% to US$1.4 billion. The brand prides itself on being a leader in research and development in the entire industry, and invested US$194.9 million in research and development in 2019 alone. Recently, Shanghai Pharmaceutical Group also took the industry trend of shifting from traditional healthcare to online healthcare triggered by the epidemic as an opportunity to raise funds for its online prescription and pharmacy business to ensure that the brand is in a favorable position for online transformation. The funding will also enable the brand to consolidate its hospital-centric pharmacy network.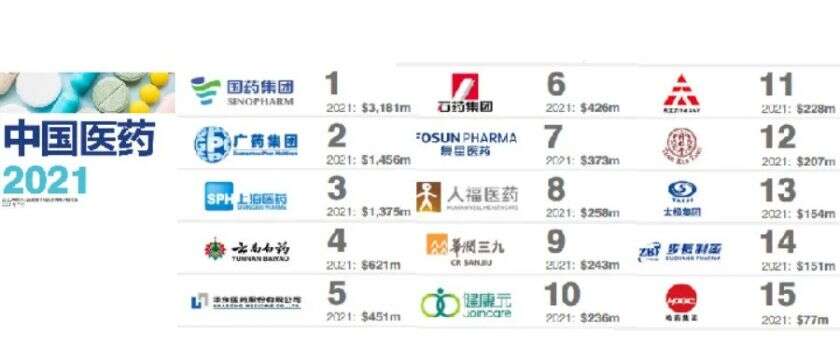 Top 15 Chinese Pharmaceutical Brand Values(Ranking/Company/Brand/Value)
1. Sinopharm Group 3.181 billion US dollars
2. Guangzhou Pharmaceutical Group 1.456 billion US dollars
3. Shanghai Pharmaceuticals 1.375 billion US dollars
4. Yunnan Baiyao US$621 million
5. Huadong Medicine US$451 million
6. CSPC Group 426 million US dollars
7. Fosun Pharma USD 373 million
8. Humanwell Healthcare US$258 million
9. China Resources Sanjiu 243 million U.S. dollars
10. Joincare 236 million U.S. dollars
11. Tasly US$228 million
12.Tong Ren Tang US$207 million
13. Tai Chi USD 154 million
14. Buchang Pharmaceuticals 151 million U.S. dollars
15. Harbin Pharmaceutical Group, US$77 million

Disclaimer: Echemi reserves the right of final explanation and revision for all the information.
Trade Alert
Delivering the latest product trends and industry news straight to your inbox.
(We'll never share your email address with a third-party.)