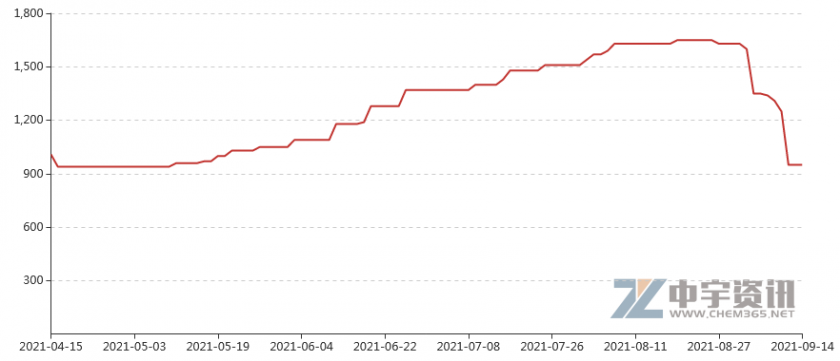 Recently, the overseas price of butadiene fell sharply. On September 10, the single-day price fell by more than 20%. As of September 13th, FOB Korea price is 950 USD/ton, CFR China price is 1000 USD/ton. When the US demand receded, butadiene supply pressure highlights. In particular, the supply situation in Korea is noteworthy.
According to customs statistics, from January to July 2021, The total import volume of butadiene in South Korea was 245,500 tons, the total export volume was 71,100 tons, and the net import volume was up to 174,400 tons. South Korea's net imports were negative for the month, despite imports of 15,600 tons and exports of 26,400 tons. But with U.S. demand slowing and businesses expecting little improvement in October, South Korea's source exports are likely to remain under pressure. It remains to be seen whether high net imports have translated into high stocks of butadiene or downstream products.
The supply pressure in the Korean market is also reflected in the supply margin caused by the overhaul of upstream and downstream devices.
Starting from October, Korea Kumho and LG will enter the maintenance season. Although LG upstream and downstream simultaneous maintenance, is expected to have a limited impact on the spot market, but Korea Kumho maintenance is not synchronous, or will increase butadiene supply pressure. It is reported that Kumho butadiene rubber, styrene butadiene rubber, nitrile rubber and SBS and other products have overhaul plans, although part of the latex plant to maintain normal operation, but its 237,000 tons/year butadiene plant normal operation, butadiene surplus will be significantly increased.
In the current period, the trade flow of "Southeast Asia → Northeast Asia, Northeast Asia/Europe → The United States" has been disrupted. In the process of seeking new demand destination market, the market of butadiene has been under short-term pressure due to the pressure of inventory and supply in South Korea. It is suggested to pay attention to the demand follow-up situation after the price falls to a low level.

Disclaimer: Echemi reserves the right of final explanation and revision for all the information.
Trade Alert
Delivering the latest product trends and industry news straight to your inbox.
(We'll never share your email address with a third-party.)