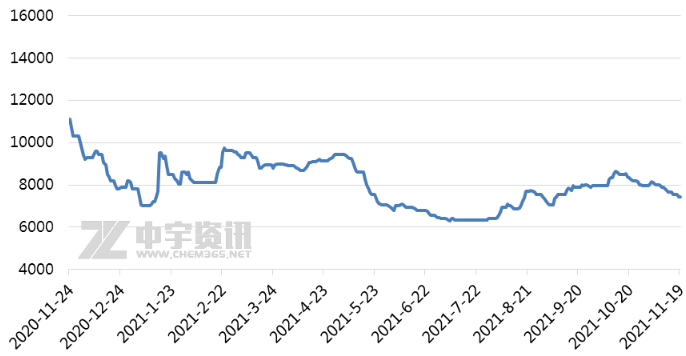 2020-2021 isopropanol market price trend chart of China
Isopropyl alcohol exports in October came out, the performance is not ideal, only just broke through the ten thousand tons of mark. The export volume in November is expected to weaken. What is the trend of Isopropyl alcohol in China? Combined with domestic and foreign supply and demand, market factors for everyone to interpret.
Weak export support isopropyl alcohol supply and demand contradiction highlights.
December is a big month of consumption in Europe and the United States, and isopropyl alcohol device in Europe unexpectedly reduced production, and the price rose significantly in the past month. Therefore, China's export volume of isopropyl alcohol from September to October is considerable from the whole year.
However, as the international demand weakened in November-December, the support for Isopropyl alcohol in China was relatively weak. From the full year export forecast, more pessimistic, is expected to be less than 110,000 tons/year! Especially from November to December, when China's monthly output is higher than 28,000 tons, the market supply will be surplus, and the price trend is difficult to turn around.
Production rose in November to highlight the serious oversupply.
Lihua Yiweiyuan started operation at the end of the month, further increasing domestic production, and the total supply of isopropyl alcohol is expected to reach 31,000 yuan/ton in November. Then we predicted in the last phase that the export volume in November was less than 10,000 tons, and the domestic demand was expected to be 15,000 yuan/ton.
Combined with the import volume, the supply of the whole month was seriously over 6000-10,000 tons. Therefore, we can judge that the price war will continue, the relationship between supply and demand will inevitably happen!
The extra production, after all, affected operating rates in December.
Since the supply in November was too large, December could not be "immune". It would be worse if the balance of 6000-10,000 tons was left until December, which is bound to greatly affect the operation rate of the factory. As a result, the factory operating rate in December was gradually decreasing, and a 20% to 30% reduction in the negative will hardly reverse the oversupply situation.
But after all, the cost line is relatively high, and the price war can drop by 300-400 yuan/ton. The price of most factories can only be near the cost line, while the advantageous enterprises have greater room for decline, which is bound to affect the domestic isopropanol operating rate to drop sharply in the second half of December.

Disclaimer: Echemi reserves the right of final explanation and revision for all the information.
Trade Alert
Delivering the latest product trends and industry news straight to your inbox.
(We'll never share your email address with a third-party.)