According to the news, the butyl acrylate unit of BASF in the U.S. had to be shut. Before the restart, BASF would cut the supply volume to its customers. The same scene once happened in October 2016 and the butyl acrylate market jumped. As for this time, will the butyl acrylate market increase greatly again?
The total capacity of U.S. acrylic is more than 1,000kt/a and all companies are international: DOW Chemical, Arkema and BASF. Dow's capacity is the biggest and occupies 57% of the total. Arkema's capacity occupies 26% and the rest 17% is belonged to BASF.
China has exported more and more butyl acrylate to the U.S. since 2017. Hence, the unit maintenance of BASF will boost the export volume.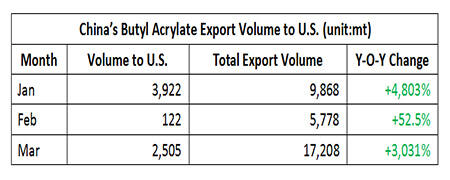 Butyl Acrylate
Currently, the butyl acrylate inventory is not high. Moreover, some units in China will undergo maintenance in H2 May and H1 June. So, the butyl acrylate market will not go down unless some bearish factors occur.
On the whole, the Chinese butyl acrylate market is likely to go up and follow-up development will be updated later.

Disclaimer: Echemi reserves the right of final explanation and revision for all the information.
Trade Alert
Delivering the latest product trends and industry news straight to your inbox.
(We'll never share your email address with a third-party.)