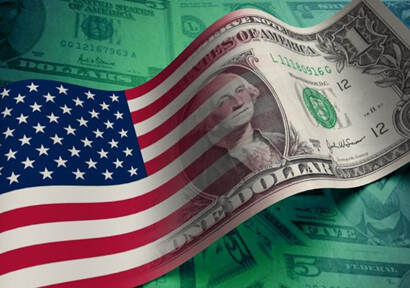 Influenced by tariff sticks and structural economic problems in the United States, domestic retail and manufacturing performance has declined. At the same time, structural problems such as excessive government and corporate debt, insufficient labor productivity and widening gap between the rich and the poor have long plagued the U.S. economy. Signs of the decline in growth rate have begun to show that while waving sanction sticks in the United States and stirring up trade disputes. The US economy has shown signs of decline instead of "making great strides" as the US President Trump called it. The survey found that consumption accounts for two-thirds of U.S. GDP, but U.S. consumers did not open their wallets after entering the second quarter. Nor did the government increase its fiscal allocation as much as last year to stimulate the economy. Moreover, investment and enthusiasm for employment are declining. After entering April, retail sales in the United States began to decline. The U.S. Department of Commerce said recently that retail sales in April fell by 0.2% year-on-year after seasonal adjustments due to declines in electronic products, home decoration, automotive, automotive parts and online shopping categories. Manufacturing is highly sensitive to changes in global demand and is regarded as a vane for the U.S. economy. According to data released by the Federal Reserve, in April, manufacturing output, which accounts for the largest proportion of industrial output, fell by 0.5% annually, dragging down the overall industrial output performance, including factories, mining and public utilities. In that month, industrial output fell by 0.5%, while durable goods such as machinery, electrical appliances and motor vehicles declined sharply. At the same time, the capital expenditure of American enterprises, which is an important factor determining the sustained expansion of the economy, has continued to decline. U.S. core capital goods orders, which measure investment levels, have stagnated in 2018 after reaching an annual peak of 13% in six years in the autumn of 2017. Because of the tense trade partnerships between the United States and China, the supply cost of American enterprises has increased, the global supply chain has been interrupted, and some companies'capital expenditure has even dropped to 2016 level.
The analysis shows that due to the increase of import tariffs, American retail industry is facing great pressure, and more and more Americans are becoming "moonlight clan". Analysts at Bank of America say tariffs could cut retailers'profits by 39% this year if retailers fail to raise prices. As long as tariffs are not lifted, investors'concerns alone will be enough to drag retail share prices down further. The new tariffs imposed in the near future will dramatically increase the cost of more products, some of which will inevitably be passed on to consumers. There is no doubt that when tariffs are raised to 25%, American consumers will directly face price increases for all kinds of goods.
Analysis shows that the latest tariff measures may damage consumer and business confidence, and thus have a greater impact on the U.S. economy. Due to the escalation of trade disputes, the business environment is in a state of chaos. Nobody knows where to go next. There are uncertainties everywhere. Enterprises are facing a difficult situation. As a result, more and more Americans are choosing to suspend non-essential consumption, such as stopping buying houses and decorating, and switching to rental housing. To make matters worse, the U.S. fiscal deficit is expanding sharply. Data show that in the first seven months of fiscal 2019 (October to April last year), the US budget deficit was $531 billion, up 38% from $385 billion a year earlier, and federal spending rose 8% to nearly $2.6 trillion. Federal spending has risen faster than tax revenue. Expenditures on military, medical and debt interest rose sharply. The people's feelings are most intuitive when the economy is good or not. According to Jeffrey Sachs, professor of sustainable development and health policy and management at Columbia University, in his article "Illusion of American Growth", the macroeconomic indicators pursued by the U.S. government do not reflect the growing anxiety of Americans. They cover up a lot of things related to the quality of life. For example, despite the expansion of the U.S. economy in recent years, the public health crisis in the United States continues to intensify. Life expectancy in the United States has declined for two consecutive years in 2016 and 2017 - the longest consecutive decline since the First World War and subsequent influenza outbreaks. And Americans continue to feel less happy.
The article quotes an analysis agency survey that about 49% of Americans believe that the economic situation is improving, but 50% believe that the economic situation is deteriorating or will remain the same. Overall, only 31% were satisfied with the direction of development in the United States and 67% were not.
Not only here, but also American investors are distressed by the high and cold stock market. Since its inception, US stocks have continued to rise, putting their valuations at historic highs relative to global stock markets. Investors said the escalation of trade tensions was worrying. This year's U.S. stock market rally may become more fragile, and the stock market plunges that sparked market panic in November and December of last year will reappear. Many investors are cutting back on stock investments and turning to cash or other safer assets. Investors are becoming more and more familiar: the US stock market has bubbles, and overseas markets are cheaper than the US market and historical valuations. Zhu Min, Dean of Tsinghua University's National Institute of Finance and former vice president of the International Monetary Fund (IMF), has previously said that the US trade deficit lies behind the structural problems of the US economy. Although there are numerous new technological inventions in the United States, they can not be industrialized, which reflects the failure of market function and government macro-policy. The biggest structural problem in the U.S. economy now is the sharp decline in labor productivity. If labor productivity is not high, profit thickness is insufficient and cake is not big enough, there will be income inequality and the gap between rich and poor.

Disclaimer: Echemi reserves the right of final explanation and revision for all the information.
Trade Alert
Delivering the latest product trends and industry news straight to your inbox.
(We'll never share your email address with a third-party.)