According to the research of CHEM, the total coating production in Europe reached 8.5 million mt in 2016, which was equivalent to 26 billion euro. It was estimated that the growth rate would be lower than the GDP.
The European coating market saw different growth patterns and driving force. Since 2015, the market was influenced by the unstable economy and political tensions with the slow recovery of EU's economy. Eastern Europe area was greatly influenced.
However, the demand for coating in Europe was positive. Consumers' spending was stable and the auto industry in EU countries developed healthily. Moreover, the construction projects were recovering.
The demand from 28 EU countries occupied around 70% of the total demand in Europe. Eastern Europe's demand (including CIS and Turkey) occupied around 30%. Germany was the largest market in Europe. Furthermore, the demand in U.K., Germany. Spain, Poland, Turkey, Sweden and some central European countries was higher than the average level. But, the shrink in Russia dragged down the overall growth.
From the consumption distribution, the production of Germany, Russia, Italy, U.K., Turkey, France, Spain, Poland and others European countries were 1,445kt, 1,020kt, 850kt, 850kt, 765kt, 680kt, 595kt, 510kt and 1,785kt respectively.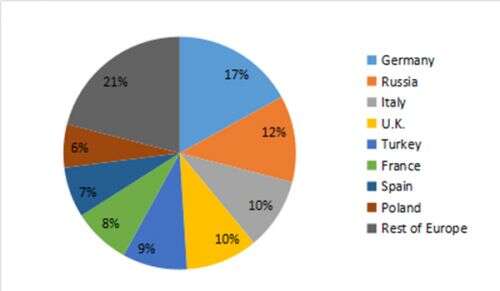 Production Analysis (by Country)
From the application fields aspect, the production of building paints, general industry, corrosion protection+ marine/offshore, auto OEM+refinish, wood finishing and others were 5,015kt, 1,700kt, 510kt, 510kt, and 425kt respectively.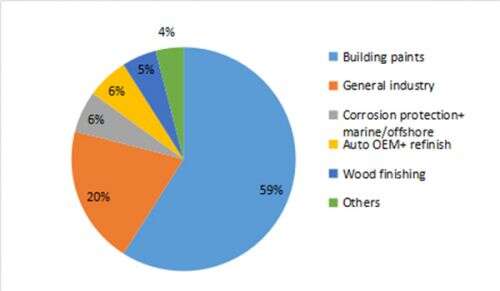 Production Analysis (by Consumption)
Other restrictive factors are enforceable in order to reduce the VOC content. And the market is trying to decrease the consumption of coatings. Due to the economic factor, using high-performance raw materials to produce new kind of coating and reduce the consumption per m3. Another restrictive factor is that the need without coating, such as the stainless steel, plastic with colors, etc.

Disclaimer: Echemi reserves the right of final explanation and revision for all the information.
Trade Alert
Delivering the latest product trends and industry news straight to your inbox.
(We'll never share your email address with a third-party.)